Margin Transformation delivers significantly higher value than Cost Optimization, while providing real insights into a company's key performance drivers.
Cost Optimization is a blunt tool, often causing more damage than benefits and never reaching the optimal state. It requires more than Cost Optimization Initiatives to address disruption and thrive in volatile environments.
As we head into a recessionary period, firms that manage margin and balance sheet items deliver up to 50% higher shareholder returns. Finance leaders have a unique opportunity to drive Margin Transformation.
A truly end-to-end scope would include not only the entire value chain but also the product portfolio, sustainability objectives, and the financial impact of profitability, margin, and ability to finance the operation.
Understanding demand at a deeper level, as well as transfer prices and financial constraints, are critical for end-to- end optimization to quantify and maximize any initiative's real financial impact and drive Margin Transformation.
Typical Value From Margin Transformation:
Up To 20% Higher
5-10 Higher Margin Points
Up To 50% Higher Shareholders Returns
Cost Optimization Is A Blunt Tool
Network Structure
Should I lease or build new sites?
When do I need more capacity?
How do I consolidate assets?
Transportation
How many routes and assets do I need?
How can I reduce my empty miles?
Production Footprint
When should I pre-build?
Do I have the right balance of capacity?
Should I be outsourcing my production?
Traditional Network optimization analysis only will answer basic questions about network structure, inventory, transportation, and production footprint.
It requires more than Network optimization Initiatives to address disruption and thrive in volatile environments.
Margin Transformation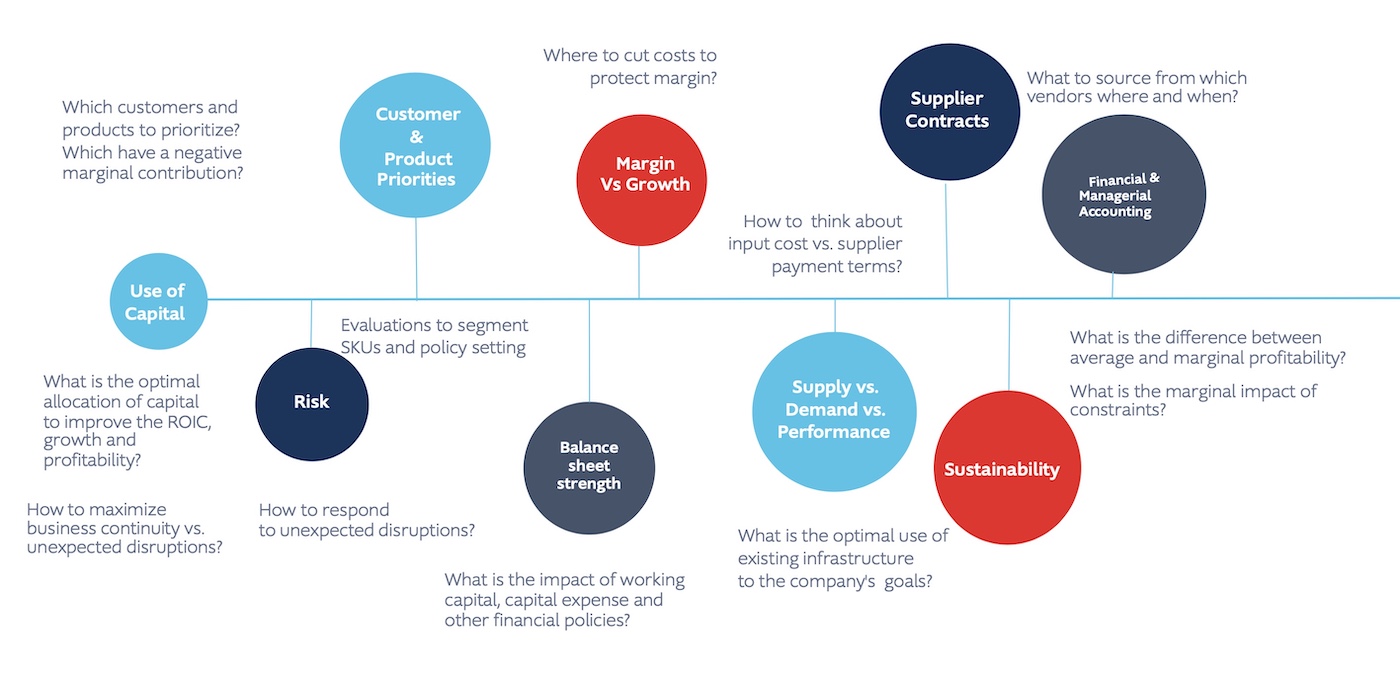 While providing real insights into a company's key performance drivers, Margin Transformation enables you to Understand demand at a deeper level, transfer prices, and financial constraints to quantify and maximize any initiative's real financial impact.
Real Wins: Tronox
The Challenge
A multi-billion dollar, globally integrated Mining and Chemical company operating almost two dozen mining sites and processing facilities with thousands of employees.
The primary product has about 20 code variations that are determined by purity, size, weight, and other chemical characteristics.
The Solution
River Logic ́s Digital Planning Twin TM provided Tronox with a monthly planning Solution that can look across a 24 month horizon to help the company determine which products are most profitable per product and per customer basis.
Long-term planning supports strategy across a 30-year horizon.
Ability to determine trade-offs between upstream and downstream processes, in order to realize net improvements across the entire value chain.
The customer can represent all its manufacturing processes in a single intelligent model, including financial components at every step of the way.
The Impact
River Logic ́s Digital Planning TwinTM enabled Tronox to find:
$45-$80M in NPV Improvements, realized within the first 6 months since deployment. This represents 3%-5% improvement.
Ability to make decisions on profitability taking into consideration products and customers allowing for better forecasting.
The utilization of a single, visualized view of the entire end-to-end process enabled the company to simplify a very complex planning process.
The River Logic Difference
At River Logic, we understand the industry. Knowing the market allows us to bring value. River Logic can address these industry questions with industry answers. The foundation of our technology is a digital planning twin of your end-to-end business as it exists today — including all financial complexities, constraints, and KPIs. Powered by optimization, you can run unlimited strategic, tactical, and operational scenarios to balance complex trade-offs and maximize the value of your decisions.
River Logic enables connected decision-making across the enterprise, empowering supply chain executives to have a strategic view of the business that extends to the tactical and operational levels of planning.
Connected Decisions

To learn more about services and technology from River Logic, get in touch with us today.